Welcome to Gators by Crystal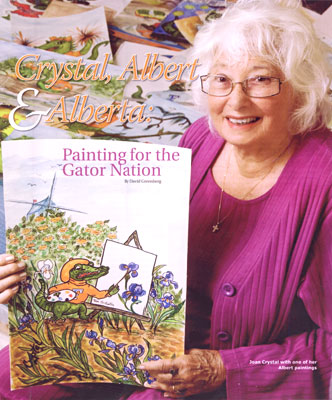 Art has been Joan's passion since the first grade. She painted and exhibited under her maiden name Crystal in the beginning and so it is now her trade name.
Joan became a football fan in high school on the pep squad learning to cheer the team on to victory. Joan then understudied with a European artist, H. J. Hermalin in Los Angeles. She also took classes in college and her art career became successful across the U.S. from California through Texas to Florida. She fell in love with the Gators as soon as she arrived in the Gainesville area of north Florida.
Danny Wuerffel lead the Gators to the National Championship and won the Heisman Trophy, who could not fall in love with excellence?Joan then fell in love with the "Cutest mascots, Albert and Alberta." A friend suggested she paint them and so Gators by Crystal began. Everyone who saw her work started making suggestions of new adventures for Albert and Alberta, so now you can see 64 works. She does fine art as well but as she says, "Everyone wants the gators." You can reach her by calling (352) 262-3561
Welcome to Gators by Crystal. A collection of the University of Florida Gators artwork by Joan Crystal. Joan is sanctioned by the University of Florida and licensing bureau that monitors the commercial use of NCAA logos and mascots.